Hi!  I'm Eileen and I'm a li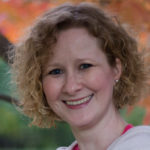 brarian in the Spokane, Washington area.  I've always had an insatiable curiosity about different things ever since I was a kid growing up in the suburbs of New York City.  Curiosity and a love of learning are some of the factors that led me to completing a bachelors and two masters degrees.
My mind often wanders to various subjects, a practice that's encouraged by my library patrons who never cease asking me interesting questions.  I find I'm usually thinking of several things at once, something that baffles my husband who patiently puts up with me babbling about ever-emerging and evolving ideas!
When I'm not at the library or writing for my blog, I enjoy traveling (especially around the Pacific Northwest), photographing landscapes (particularly waterfalls and coastlines), and ballroom dancing (mostly tango, foxtrot, and the waltz).  Considering that I'm a librarian, it's probably not surprising that I also love to read books and watch movies.